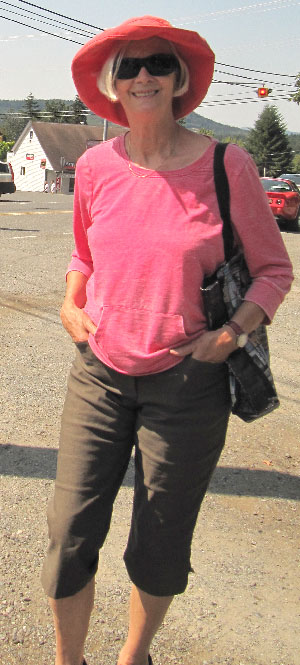 Born in 1940, I grew up mostly in Toronto, in a literary and academic household where writing was ordinary. Two late-childhood years in England offered valuable experience of being an outsider, as did the return to Canada and being peculiarly young in high school.
Each graduate had to pick a quotation to go with her yearbook photo. Mine was People say that life is the thing, but I prefer reading (Logan Pearsall Smith). Perfect for heartbroken sixteen — but, lifelong, few experiences have given me more consistent pleasure, and there's no greater fear than that of losing my sight.
My employed life, 1961-2001, included some years in publishing, at first clerical (Dictaphones, carbons, the snob value of a Canadian accent in New York), and later in book production at university presses in Toronto and Montreal. Soon after I moved to Vancouver in 1969, chance and nerve got me on to the faculty at Langara College. I taught English and Women's Studies part-time till, in 1985, a regular contract came my way.
All my adult life I've been active in groups — university dorms, anti-war, far left, women's movement, not so far left, unions, co-ops. Those processes have fed my fiction. In the 1970s my two daughters were born, and I began to write seriously, though constrained by lack of time. (Mothering, breadwinning, politics.) I hungered for narrative but still produced briefs, articles, leaflets.
The Animals in their Elements appeared in 1987, followed by My Father Took a Cake to France (1992), both from Talonbooks. A novel, Making a Stone of the Heart (Key Porter) appeared in 2002. While writing that, and another novel (unpublished), I worked on short fictions that grew into a linked sequence, The English Stories (Biblioasis 2009). Then came Red Girl Rat Boy, in 2013.
What Can You Do, my fifth collection of stories, will appear from Biblioasis in 2017.
.