Introducing Red Girl Rat Boy by Award Winning Author Cynthia Flood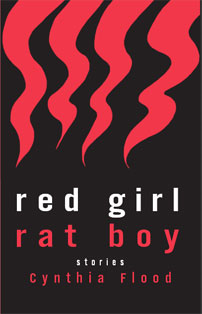 Though some readers see thematic connections in Red Girl Rat Boy, it's not a linked suite like my last book, The English Stories. The variety pleases me. Also, some stories in Red Girl — "Addresses," "To Be Queen," "The Sister-in-Law" — feature a less elaborated narrative than I've often used in the past. More elliptical, compressed, imagistic. Writing this way felt quite different. Another, "Eggs and Bones," is split between two characters. I haven't written one like this in a long time, and enjoyed the process.
In Red Girl Rat Boy, stories often feature people who wrongly believe they're doing only one thing and doing it for a good reason. Perhaps because over time I've recognized this behaviour in myself, I see it often in my characters. Joyce in "The Sister-in-Law" struggles to transform other people, not realizing that her efforts serve mostly to deform and harden her own self. The Boss Lady in "Care" has only a narrow understanding of her role and actions. In "The Hunter," the grow-op manager loves living beauty yet cruelly imprisons it, with no notion of his cruelty. Sometimes age makes a difference. Older people in "Dirty Work" and "Blue Clouds" do recognize some of the motivations driving them, in youth and now; they see that one act is enveloped in a cloud of others.
I like writing short fiction in which a lot of time passes. "One Two Three Two One" and "Addresses" cover several years, "Such Language" about twenty, "To Be Queen" around forty. It's entertaining to compress months into one short paragraph, years into a brief sentence, without using explicit time references. Also fun is going back and forth in time to suggest the past lives of minor characters as they bear on the present life of the main person, as in "Red Girl Rat Boy" and "To Be Queen."
Many years ago the late great Robert Weaver re-organized the ending of a story I'd written, taking the crucial act back maybe twenty lines from the finish. Whimper not bang. I was grateful then and still am, seeing the whimper as potentially rich and curious, what architects call the jewellery on a building or installation. Endings have presented themselves oddly. That of "Blue Clouds" came truly out of the blue in a grandchild's painting, while reading the word ha-ha in a garden magazine helped to finish "Dirty Work." But sometimes still the bang works best, as in "The Hunter."