Introducing Red Girl Rat Boy by Award Winning Author Cynthia Flood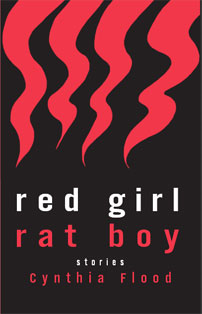 Red Girl Rat Boy isn't a linked suite like its predecessor, The English Stories. Also several stories -"Addresses", "Sister-in-Law," "Be Queen" – feature a less elaborated narrative than I've used before. More elliptical, compressed, imagistic. I enjoyed working thus. Also, "Eggs & Bones" is split between two characters. I hadn't written one like this in a long time – a pleasure.
In Red Girl, people often wrongly think/believe they're doing only one thing and for a good reason. (I've seen this in myself.) Joyce in "Sister-In-Law" struggles to change other people but only deforms herself, while the Boss lady in "Care" has only a meagre understanding of her role. Some older people, as in "Blue Clouds" and "Dirty Work," do see some of their earlier motivations – that one act was enveloped in a cloud of others.
In several stories, long periods of time pass – three years, twenty, forty. I like conveying that passage in short fiction. I've also played with suggesting the past lives of minor characters, to show how they bear on the present life of the principal.
As for story endings – many years ago the late great Robert Weaver reorganized a story I'd written, drawing the climactic moment back to about 20 lines from the end. Whimper, not bang – I've used that often, since.  In Red Girl, endings often work thus, but not in the last story, "The Hunter," which finishes with a gunshot.
Recognition for Red Girl Rat Boy from Biblioasis in 2013
Order Red Girl Rat Boy
ORDER Red Girl Rat Boy NOW from