Introducing What Can You Do by Award Winning Author Cynthia Flood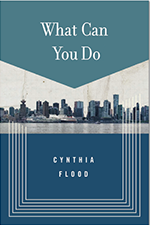 I'm happy that Biblioasis is publishing What Can You Do, my fifth book of short stories!
What's it about? Describing a miscellany: never easy. For most, Vancouver's the setting, though the south of France turns up too. Animals and children often appear. Sometimes a few hours pass and sometimes decades. Some characters don't know what they want, while others do know but lie to themselves.
In many stories, two people resist each other. They negotiate, withdraw, conceal, use emotional blackmail, reconnect but aren't as they were. For these couples, sisters, parents and children, their closeness makes the struggle matter.